We have quite a variety of coffee beans in our inventory.  Current single source bean offerings may include*:
Sulawesi White Eagle
Kona Blend
Organic Mexican Hybrid
Bali Blue Krishna
Costa Rican Tarrazu
Papua New Guinea
Monsooned Malabar
Kenya AA
Sumatra
Ethiopian Yirgacheffe
Colombian Supremo
Haitian Blue Caturra
Tanzanian Ruvuma
Java Taman Dadar
Guatemalan Huehuetenago
Honduran San Vincente
Rwandan Coopac
Lots of DECAFS and FLAVORED BEANS, too!  Just call and ask what's in the bins.
*beans subject to change based on availability!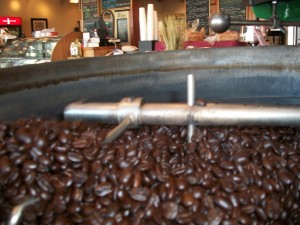 Trivial Tidbits…
* The Point offers 15 varieties of brewed coffee to choose from daily. 8 single source coffees, 4 Blends, 2 decafs and 1 flavored brew.
* Espresso, latte, cappuccino, and frappe all made to order. A huge variety of flavored syrups is available.