We love coffee and are dedicated to the finest beans! This brings you the freshest espressos, lattes and cappuccinos in our area. Try our frappes or our iced coffees, or add a flavor shot to your favorite brew. We source a large variety of Certified Organic and Fair Trade coffees so we can offer a wide selection of dripped coffees for you. By the pound or by the cup, our current inventory includes:
# Beans & More Beans!
Sulawesi White Eagle
Kona Blend
Costa Rican Tarrazu
Papua New Guinea
Monsooned Malabar
Kenya AA
Sumatra
Ethiopian Yirgacheffe
Colombian Supremo
Guatemalan Huehuetenago
Brazilian
Bakery Blend
Copper Canyon
Panama Boguette
Peruvian
Starry Skies
# Daily Point Specialties
Point Blend
Wreckless Abandon
Dirty Blond
French Roast
House Decaf
Plus 2 – 4 specialty brews a day!
Lots of DECAFS and FLAVORED BEANS, too!  Just call and ask what's in the bins.
*beans subject to change based on availability!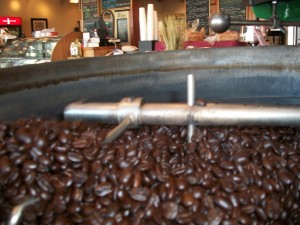 Trivial Tidbits…
* The Point offers 15 varieties of brewed coffee to choose from daily. 8 single source coffees, 4 Blends, 2 decafs and 1 flavored brew.
* Espresso, latte, cappuccino, and frappe all made to order. A huge variety of flavored syrups is available.